Tapping Processes of Stainless Steel Pipe Fittings' Internal Threads
Posted: 07/12/2017 11:31:47 Hits: 12
Stainless steel threaded
pipe fittings
are pipe fittings with threads. They are often used for water and gas pipes, water pipes with small diameters, compressed air pipes and low pressure steam pipes. Stainless steel threaded
pipe fittings
are connected to threaded pipe ends to form pipelines. We can coat the threads with adhesive such as thick white paint, lead oxide glycerin adhesive, etc. to ensure the seals.
The main products: flexible pipe unions,
pipe bends
, pipe tees, pipe crosses, valves, quick couplings,
reducers
, etc.
Pressure: 10 KG/CM2 (150 LBS), 60 kg/cm2 (1000 WOG).
Thread standards: BSPT, NPT, BSP, DIN, etc.
Size: 1/8 Inch to 4 Inch.
Material: stainless steel 201, 304, 316, etc.
Product advantages: stainless steel threaded pipe fittings are environmentally friendly products, which can replace traditional carbon steel, aluminum and copper products; they have advantages of long service lives, beautiful appearance, acid and alkali resistance and corrosion resistance.
Tapping processes of stainless steel pipe fittings' internal threads
Stainless steel materials are prevalent at present. The main reason is that they are environmentally friendly. Internal threads on the stainless steel pipes' surfaces are usually made by screw taps through tapping processes. Because stainless steel materials have high viscosity and poor chip-breaking performance, chips scratching threads of the workpiece or distortions of screw taps can easily occur in tapping processes, affecting the processing efficiency and threads' quality.
In order to prolong the service life of a screw tap and improve the quality of the thread processing, we should pay attention to the following points.
1.
The design and manufacture of screw taps
(1) Choose better crew tap materials. We can significantly improve screw taps' wear resistance and toughness by adding alloy elements to the ordinary high-speed tool steel.
(2) Coat surfaces of screw taps' threads with titanium nitride so as to remarkably improve screw taps' wear resistance, heat resistance and lubricity.
(3) Increase screw taps' rake angles appropriately, but it should be noted that if screw taps have too big rake angles, it will easily cause screw taps' distortions and arris in the retraction.
(4)Increase the thread relief amount of screw taps' appropriately, but it should be noted that if the thread relief amount is too large, it will easily make chips get into relief angles, resulting in bad surface finish of screw taps.
(5) Take into account the hardness and toughness of screw taps. Therefore, we need to reasonably choose a tool heat treatment method.
2.
Reasonable use of screw taps
We should consider different cutting methods when we process different types of workpieces. Grind the new screw taps if necessary. The grinding priciple is to try to make the chips discharge from chip pockets as many as possible, preventing the chips scratching the processed threads.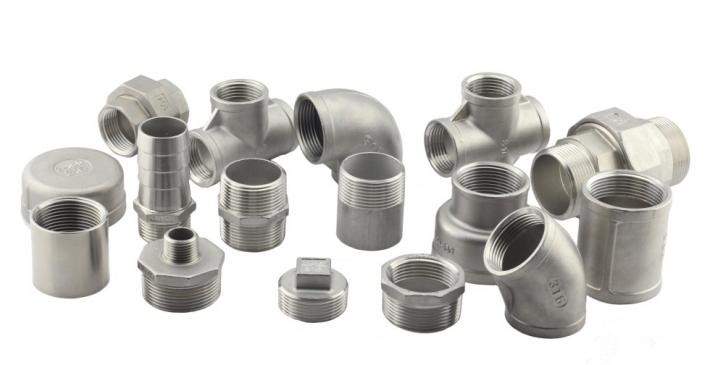 Post URL: http://www.landeepipefitting.com/tapping-processes-of-stainless-steel-pipe-fittings-internal-threads.html
Landee is a professional industrial pipe fitting manufacturer and be well accepted by customers all over the world, we has been producing Pipe Fitting for a variety of applications since 1985. welcome to access our website: http://www.landeepipefitting.com.